Cutting And Shelving Board Urban
The reversible Food & Wood board fit easily in the shelfplate of the frames as well as in the slider on the oven, when it is opened. The top surface is perfect for pizza, while the curve on the backside of the board perfectly fits over the curve of the slider, and functions as a juice groove if you use it for cutting meat. Packed and sold per 2 pieces, perfect to fill one frame.
Specifications
Material
Gestoomde, food proof behandelde bamboe
What's in the box?
Set houten snij- en legplank
When will my box be delivered?
14 days reflection period
Reference:
0303 ACC-WOO-URBA
Two shelves, three functions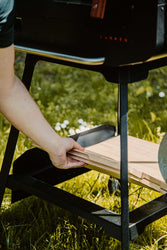 Shelf in the base
Compatible with the chassis. Ideal for stacking something, or to have them out of the way for a while.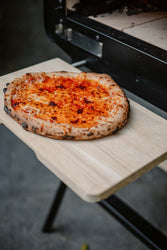 Clickable in slider
Easily place the shelf on the extendable slider of the oven. Thanks to the recesses in the wood, it fits perfectly over the tube.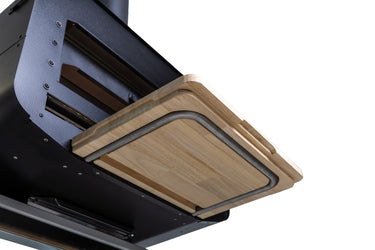 Drip edge or click edge?
Flip the plank over, and you'll get a full drip edge to catch any excess meat juices.