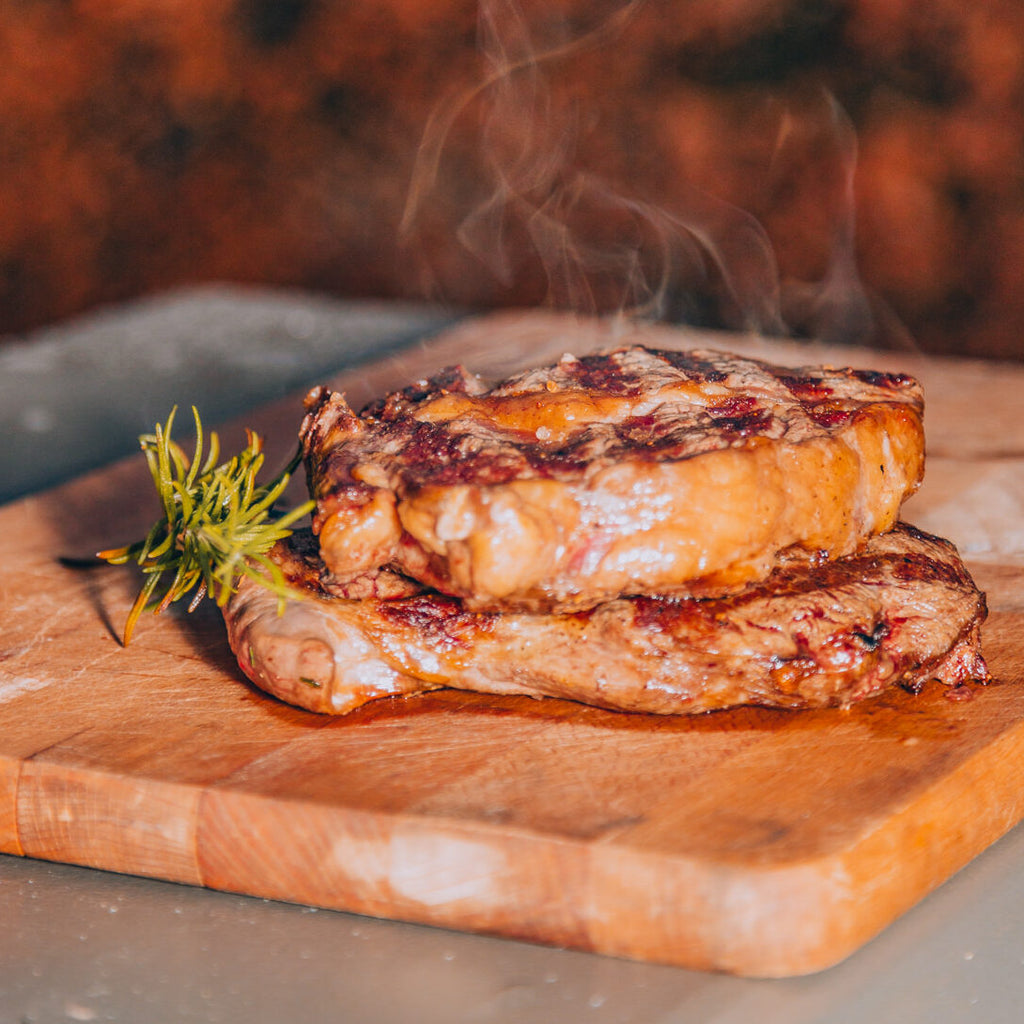 Description
Ingredients
Een mooi stuk rood vlees (Entrecote, Rib eye, Kogelbiefstuk, Zesrib ...), maar je kan evengoed eender wat voor de BBQ nemen (malse kip, heerlijke lamskroon, ...)
500 g Middelgrote groene asperges
500 g Een bakje oesterzwammen
Preparation
Laat het vlees op kamertemperatuur komen. (Optioneel: als je een sous vide toestel hebt, of een oven die op lage temperatuur functioneert, kan je een gevacumeerd stuk vlees op 55° C verwarmen gedurende 50 minuten (rood vlees) 70° C gedurende 45 minuten (kip))
Kruid met peper en zout. Zout zorgt ervoor dat je een erg krokante buitenkant krijgt bij de aanwezigheid van oplaaiende vlammen in de houtoven.
Stook de oven warm. Voor een goede BBQ werk je best met hout en mag er redelijk wat vlam zijn! Voor de Mini kan je ook pellets gebruiken. De vlam mag over het plafond razen.
Kuis de asperges en de oesterzwammen, en laat ze kort grillen met een beerje olijfolie op de grillplaat (Original) of in een gietijzeren grillpan (Mini).
Kijk na of er voldoende vlam is en leg desnoods een blokje bij. Verwarm de grillplaat (original) of grillpan (mini) in de houtoven, en schroei de stukken vlees met een klein beetje olijfolie. Draai eens om zodat het vlees langs beide kanten de vlam krijgt te zien.
Gaat het te snel? Schuif de grillplaat of de grillpan even uit de oven. Gemakkelijk!
Laat de grote stukken vlees 10 minuutjes rusten onder een laagje zilverpapier zodat het vlees heerlijk zacht wordt. Dien op met de gegrilde groentjes.