The Dome Plate is the perfect additional feature for perfect Napolitean pizza. By lowering the opening of your Vonken, flames and heat travel longer and more vividly in the oven, making the art of perfect pizza baking absolutely complete. Easily mountbale and detachable without using a single screw, the Dome Plate can also be attached to the Frame is it is not in use. Also, the use of the Bread Door and standard Door remain compatible with the use of the Dome Plate.
Specifications
Material
Hiittebestendig gepoedercoatte RVS
When will my box be delivered?
14 days reflection period
Reference:
0303 ACC-DOM-URBA
The extra mile for Neapolitan pizza
Easy to assemble
Easy to click in, without bolts or screws.
Stainless steel, heat resistant coated
Ideal to send the heat back inside for the optimal Dome effect.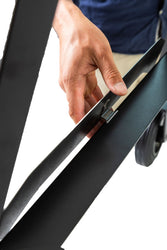 Clickable after use
Is no longer necessary? Feel free to click it on the side frame, just like the insert door.